The block house. A kind of primitive fort, typically featuring a larger upper-story, sometimes built at angles to the lower story, usually made of wood at least initially, but gradually improved with brick or stone if they lasted long enough.
For some reason I love these things.
These small fortified buildings were how a whole lot of of medieval castles got their start, often erected quickly, in a matter of a few weeks. They are closely associated with the Colonial period in the Americas as these were a very common type of frontier fort.
The design was intended to allow those inside to be protected from gunfire and perhaps even light cannon fire, while having shooting ports to get at people outside: Indians, Mongols, crazed bears, whatever. Inside there was just enough room for a few men and their guns. Maybe some whiskey, a small stove, and of course, any female captives they may happen to have with them. Unlike the more stereotypical type of frontier forts, blockhouses were usually only built when there was an expectation of imminent action.
Though vulnerable to being burned in theory, they were surprisingly effective. Small forts like this were often quickly erected as a kind of chess game of slow motion armored warfare.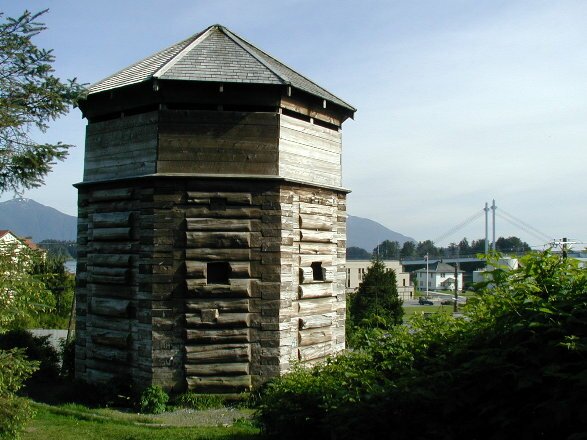 S