The secret, dangerous military life of medieval superstars
We Anglophones are taught from an early age to believe firmly in the notion of the inevitability of progress, which is one of our strongest, albeit secular, religious tenets. We all know that life before the era of the car and the railroad was 'nasty, brutish, and short', and even worse for Americans, frequently inconvenient. Therefore it follows quite reasonably that we, as a people, know very little about the Middle Ages, and even less about anyone who wasn't either English or a King or preferably, both.
Even these people are known to us primarily from 1970's Monty Python films, comic books or bizarre soap operas on Showtime.
Nevertheless, there are a handful of continental figures whose accomplishments are so spectacular that they have achieved fame in spite of this powerful bias against 'ferners' and non-English speakers of the "dark ages". Most of these are Italians: Christopher Columbus, who had the wisdom to "discover" America; Michelangelo; Leonardo Da Vinci; Galileo Galilei who as every militant atheist knows, nearly died for science; and of course for those Poli-Sci and Philosophy majors, Machiavelli, (who more Americans should probably read) as well as a few French people like Joan of Arc and Charlemagne*. This is reasonable: the French and Italians, after all, provided most of our restaurants before we learned about sushi.
* don't even try it he's French according to my mother, who learned it at the Sorbonne.
It's far rarer for us to know anything about anyone from that confusing mish mash of places in the middle or center of Europe. The rarest medieval celebrities of the Anglophone world fall into this category: people whose discoveries were so momentous that they were clearly aligned with the modern Anglo-American world of machines and technology. So important that they seemed like one of us in other words even if they spoke a language with too many consonants.
Prominent among this elect group are
Nicholas Copernicus
, and
Johannes Gutenberg
, inventors, respectively, of the flawed but clever heliocentric theory of the universe, and the clumsy but brilliant movable-type printing press. It's an indication of how strong our bias is however, that Copernicus is considerably less famous among my countrymen than Galileo, even though his
De revolutionibus
was published 20 years before Galileo was born. But it's understandable, since Copernicus, known as
Mikolaj Kopernik
to the Poles, doesn't even have the common decency to have a clear ethnic affiliation, so it's hard to understand what side he's on.
Well, it turns out these two cats had a little secret which may be of some interest to fencers.
Part One: Copernicus, a man of many talents
In spite of living in the time depicted in American movies as muddy, adorned with earth-tones, and accompanied by incessant recorder music, Copernicus was a smart guy. He could read and write Latin, German, Polish, Italian, and Greek. He attended several Universities in Poland* and Italy, three in total, and in addition to astronomy, philosophy and all those 'STEM' skills they talk about so much on NPR, he was also a trained physician, a priest, and an astrologer.
*yes they had one there
Warmia, where Copernicus lived, is shown in yellow on this map
Lucas von Watzenrode, the intelligent and resourceful bishop of Warmia, uncle and patron of Copernicus.
Today that would be enough for most people but Copernicus was not satisfied with this limited range of interests. In close alliance with his uncle, the enigmatic
Lucas von Watzenrode
, Copernicus was like many in his day, a man of numerous skills. Aside from his day job as a canon of the church, an administrator, and the personal physician and assistant to his Uncle the Bishop and nominal ruler of Warmia, Copernicus also translated Greek poetry, performed diplomatic and spy missions, dabbled in economic theory (he wrote an influential treatise on coin debasement), looked at the stars and played with lenses and prisms of course, and... in addition...
he was a warrior
.
Yes, here is something I bet you didn't know. Nicolas Copernicus, the famous astronomer who published his heliocentric theory in De
revolutionibus orbium coelestium
20 years before Gallileo was born, defeated the Teutonic Knights in battle in 1521.
https://en.wikipedia.org/wiki/Siege_of_Olsztyn
The Teutonic Knights were a German military order who had grown to power between the 13th and 15th Centuries by acting as the conduit of European crusaders who voyaged every year to the Baltic area to help forcibly convert, or if necessary destroy pagan Europeans who lived in this area, as well as occasionally fighting the Mongols who controlled the nearby Golden Horde. The Teutonic Knights became very powerful in the 14th Century by gaining control of fertile land and several prosperous trading towns in Prussia (today northern Poland) and Livonia (today Latvia and Estonia and the Kaliningrad Oblast which may lead to WW III), all welded together under the disciplined and efficient, if harsh, control of the Grand Master of the Teutonic Order. Much of the lucrative Baltic trade was subject to their taxes and tithes. By the end of the 14th Century however their crusade had petered out as the tenacious Lithuanians, who lived in a huge impenetrable forest, had vastly improved their military techniques and kit. They were soon able to deal with both the Muslim Tartars and the Christian Crusaders with equal skill. The pagans even had the nerve to launch their own "anti-Crusades" every year against the Order, and these tit for tat
reysa
left the borderlands between them in a ragged stalemate.
Meanwhile the aggressive and uncompromising Order had alienated their onetime ally in Poland and the Poles were trading and occasionally forming alliances with the Lithuanians. Both the Poles and the Luthuanians were pragmatic, and increasingly saw eye to eye in spite of their religious differences. This was greatly assisted when a remarkable Polish lawyer named Pawel Vladimiri won a major legal case in the early 15th Century Council of Constance establishing the right of Poland to make treaties with the "heathens". By the early 15th Century the Order had suffered a shattering defeat from an alliance of the Poles and Lithuanians at Grunwald, and in the mid 15th Century (1454-1466) the nominally German cities in Prussia who were the subjects of the Order, elected to join with Poland and launched a successful revolution against their overlords. By the time of Copernicus Poland and Lithuania were closely allied and the once mighty Teutonic Order was back on it's heels, dreaming of revenge and reconquest. The largest trading cities like Danzig, Elbing, and Torun (Thorn) were safe behind their walls, but the smaller cities in the rich lands of Prussia were caught in between the two powers.
Though his ethnicity (Polish, German or something else) is often still bitterly disputed to this day, and Copernicus grew up in German speaking areas, he himself had no confusion about his political loyalties - he was pro-Polish and pro-independence all the way. This was mainly because Poland was at that time a
comparatively democratic place
, with a well proven "live and let live" policy toward allied towns and districts, regardless of their ethnicity, and this included Warmia where Copernicus and his uncle were highly placed in the government. The (mostly German) Teutonic Knights by contrast had a 'my way or the highway' point of view. Or more like a 'my way or I'll torture you to death and kill your family' point of view to be more specific. So many if not most of the German burghers in the region still sided with Poland instead of with the Order.
Copernicus' tower in Frauenberg (Frombork) where he lived and worked
Trouble started when the Teutonic Order invaded Warmia in 1519 with 5,000 soldiers, and in 1520 the Teutonic Knights burned the beloved home town of Coperrnicus, Frauenberg ("town of women") including his house which was burned to the ground. Copernicus was forced to move to the small walled town of Allenstein (Polish Olsztyn), where in his capacity as a civic leader, he was placed in charge of the defenses. Initially he only had 100 men to defend the town so he immediately wrote to the Free city of Elbing to send for reinforcements and 20 cannon. Copernicus set to work organizing the defense, improving fortifications and stockpiling food. Though his message was intercepted by the Order, the Polish King got wind of the crisis from other channels, and sent 200 infantry under the command of the Czech Condottieri Henryk Peryk of Janowice. Later another 700 cavalry arrived under the command of Rotmistrz Zbigniew Slupecki, along with supplies of Elbing including lead, salt, and 16 cannon.
The Teutonic Knights arrived on January 16, 1521 with 400 infantry, 600 heavy cavalry, 400 light cavalry, and an unspecified number of cannon. The first stage of the defense consisted of small ambushes by skirmishing units meant to slow the advance at choke points and defensive positions along the roads. As the Teutonic Knights gradually fought their way past the skirmishers, they sent a messenger ahead demanding the surrender of the town, but Copernicus refused. Ten days later, on January 26, the Teutonic knights arrived in force and attacked.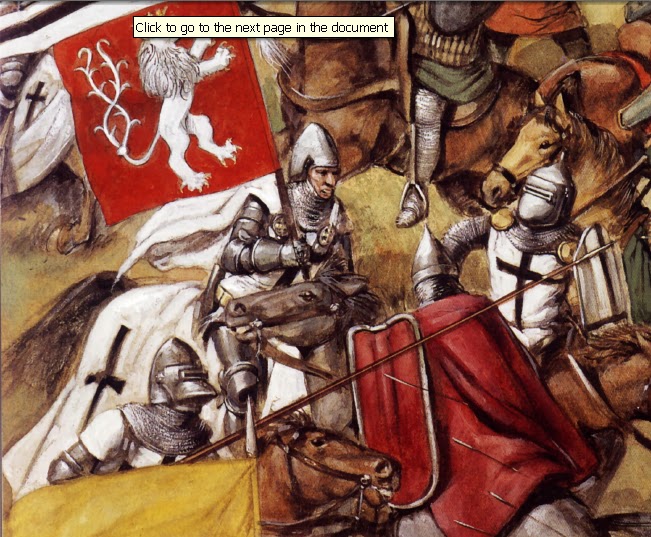 Remains of Oldsztyn town walls
The Castle
al Allenstein
Led by Wilhem von Schaumber, they attempted to storm the Mill Gate (Brama Mlynska). The moat was frozen so early one morning, the Knights were able to quietly bring up ladders and a battering ram and try to storm the wall. Using the ram they were able to smash the gate in just a few minutes. Their attempt at surprise failed however when a sentry sounded the alarm, and the Poles, Czech mercenaries and German burghers rallied to the defense. Copernicus is believed* to have come out onto the walls and directed the defense personally at the critical phase of the fighting. The Knights were repulsed and forced to withdraw.
* by the Polish historian Jerzy Sikorski, the guy who was the guy who found Copernicus' grave
a modern Polish depiction of Copernicus leading the defenders. I think the defense may have been a bit more sophisticated than this and probably involved a lot of guns, but the gist of the situation is conveyed...
By the end of the month more reinforcements had arrived from Elbing and the Teutonic Knights, running out of money to pay mercenaries, had to abandon their siege. By the end of 1525 the Order began negotiations with the Polish King, Copernicus negotiated the terms of the treaty which followed, spelling the effective end of the Teutonic Order's grab for power in the region. They never invaded Warmia again and not long after many of them converted to Lutheranism.
Part Two: Gutenberg and the Strasbourg Militia fight off 25,000 'throat cutters'
I am being a little bit misleading here already, because I don't know very much about Gutenberg's role in the Strasbourg militia,
yet!
All I know is that he was in it. He was registered in the militia rolls several times between 1436 and 1444, in which he is listed both as a half-member of the patrician Constaffler society (armed cavalry guild) and as a half-member (possibly a journeyman) of the Goldsmith's guild.
Though born of a good family in Mainz, due to an uprising by the craftsmen there Gutenberg left home in the 1430's. He wrote in a letter that he was in Strasbourg in 1434. In 1436/7 he was sued by a Strasbourg woman named Ennelin von der Isern, for breaking a promise of marriage*. There are few other records about him, however, the most interesting I've found so far has him listed with the patrician Konstofeler society with an obligation of "half a horse" for the year 1443/44. He seems to have left Strasbourg shortly afterward in 1445.
*this phenomenon, people suing one another over promises of marriage, is an interesting story to explore on another day.
Source:
http://www.mainz.de/gutenberg/zeitgutb.htm
Now this is where for me, it starts to get very interesting.
I am lucky enough to consider as a friend a certain Olivier Dupuis, a skilled and respected researcher in the HEMA community who lives in Strasbourg. Olivier often helps me with my research out of the kindness of his heart, so I asked him if he knew anything about military activity in Strasbourg in the early 1440's. It turns out that yes, yes he did indeed know of some.
(...to be continued)