I agree with you 100% that lamellar is the best armor that you could make with normal people and a little bit of time. You could cut out lames out of almost anything - you can cut it out of sheet metal with shears or you could use leather, hard plastic, or any other hard, durable and comparatively light material. And of course you need something strong and durable for a cord but there are lots of different types of very strong and cheap cord out there you can get today. You can string together rows of lames all day long with very little training and it makes for quite good protection, it also doesn't get in the way too bad. Steel from a steel roof, a washing machine or the hood or body of an old car would probably work fairly well (lamellar seems to work better as armor in all those small pieces laced together than the same material in large sheets).
You could also use brass like from old musical instruments. You need good shears of course.
This looks kind of goofy but would actually be pretty good protection I suspect. Particularly in aggregate for a large group.
I think lamellar armor would be the ideal way to equip a small group for hand to hand / thrown missile / bow and arrow type combat quickly and efficiently in almost any era, though it wouldn't offer much protection against bullets.
They must make trashcan lids more solid where you live, we used to use those as shields when I was 12 years old playing around with boffer 'swords' and they didn't hold up to even those very well. Test cutting shows that thin plastic or aluminum trash can covers get cut apart pretty easily by any kind of blade, I wouldn't want to use that for defense personally.
However stop signs and similar road signs are made of pretty thick (1/8" ? not sure precisely) aluminum of some kind of tough alloy and hold up a bit better, though as I said before I wouldn't count on them for protection from bullets.
I used to make cheap center-grip shields for re-enactors and HEMA people 10 -12 years ago using stainless steel dog bowls for a boss, and good quality (birch or poplar) 3/8" plywood, with something to reinforce / harden the rim (I used to use heavy plastic hose with a slit cut in it but sheet metal or leather would be more durable). Piece of copper pipe makes a durable and fairly light hand grip. Duct tape kind of held everything together, which looks foolish and LARPY to us in the HEMA world today but is field expedient for your ostensible 'Walking Dead' type scenario.
With a little more effort you can make something like a Roman Scutum or a 'proper' Viking shield. The 'hand pavise' design seemed to be particularly successful in medieval Europe, I think they added some kind of textile laminate which made it more resistant to arrows, crossbow bolts and bullets. I'm not sure if this had been properly reverse engineered yet but it might be worth experimenting with some modern tough and light materials like maybe nylon, packing tape (pretty strong and super light), silk, maybe even carbon fiber I'm not sure what is all out there. Whatever
this stuff is
they say it's stronger than Kevlar and much cheaper, maybe you could find some of that and cross-hatch laminate it.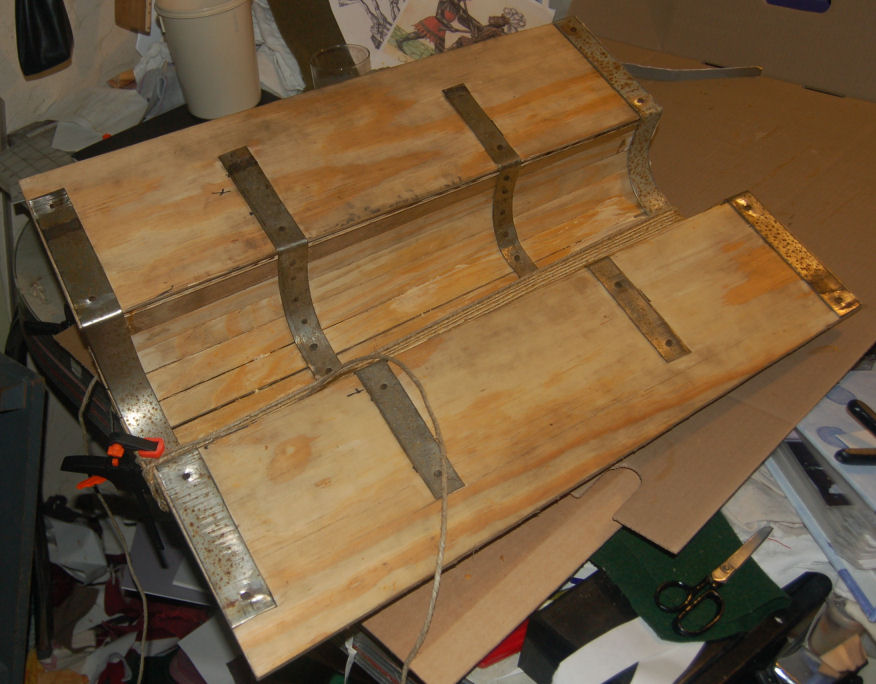 Is there really historical evidence of 'ringmail' ? I have not really found that (or I didn't when I was making the codex armor book years ago but maybe there is something I don't know about).
When we tried to make stuff like that out of washers etc. it ended up being very heavy and I think the protection is quite limited and it seemed to fall apart quickly. There are people who know how to make butted mail in almost every SCA group and Ren Faire scene, but that seems to be pretty useless too for protection as far as I can tell. Real riveted mail is much better even if you aren't that great at making it but of course, incredibly time consuming and tricky to put together. You could probably make 20 lamellar panoplies in the same time (and using unskilled labor) as it would take to make one riveted mail shirt, and for mail you would need some specialized tools and the right kind of wire. And rivets. And a skilled person to do it.
You could also probably make something like lorica segmentata without too much effort, the main challenge being to cut out (you would need some good metal good shears but those aren't that rare) and then sand the pieces of steel or iron..
I agree something like a wisby coat should be reasonably easy all you need is again a way to cut out the metal. If you had a good supply of some quality textile and people in your group good at sewing / tailoring you could make pretty good brigandine or jack of plates type armor.
https://en.wikipedia.org/wiki/Jack_of_plate
Gambesons are also good protection depending on the climate. You can waterproof them with pitch which is what they apparently did in northern Europe or substitute some modern tar like substance like for roofing or something to extend their viable life and usefulness (waterlogged armor probably not so great to wear)
Stuff like stab vests are good too of course as you note, they can be cheap - you can also for that matter find kevlar bullet proof vests up to Threat level III fairly cheap and widely available. Not going to save you from a rifle probably but it would help a lot against shrapnel and lower energy firearms like shotguns and pistols. I'm not certain but I don't think there are any limits on buying these currently
http://www.galls.com/body-armor-ballistic-protection/
That kind of stuff plus shields of some kind and fairly ubiquitous motorcylce, sports, or even hardened kevlar helmets would go along way toward 'hardening' your group for that 'Walking Dead' type situation. Gas masks (even painters respirators) probably also a good idea.
Gas mask filters have a very short lifespan though so I don't know what kind of permanent solution you could make for that, DIY gas mask? Maybe you could start making activated carbon out of charcoal.
The reason this occurred to me is that another common weapon in riots is 'poor mans teargas' like bottles full of cayenne pepper and even considerably more noxious substances which get tossed around and thrown with things like lacrosse sticks.
Oh and one other thought. One thing I keep running across in medieval war-manuals are caltrops. Apparently very widely used, they would be even more effective on city-streets. Would probably help cover an escape for example if a fight wasn't going very well. Or help cover your flanks if you were attacking, particularly if you could conceal them some kind of way (like putting them inside of some couch foam or something)
EDIT: I think I get carried away with these kinds of ideas lately because I've been watching the last (?) season of Walking Dead on Netflix