It's a really beautiful dagger, remarkable for that early considering it's way before the Iron age. It's high quality for almost any period. But I don't think this is news, I think they knew about this one and some others for a long time. I guess they just verified it.
Meteorite iron seems to have been an extremely rare and precious, but well known substance going back to the early Bronze Age. Meteorite iron is unique in nature because iron doesn't normally appear as iron, but more like rust embedded in rock or dirt. The Iron Age proper didn't start until they started figuring out how to smelt iron out of iron ore, (bog dirt, river sand etc.)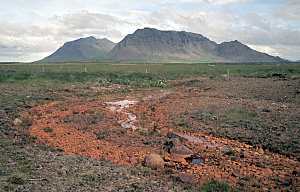 The
bloomery forge
in other words. Which starts on a small scale near modern day Iraq about 2500 BC but didn't really 'blow up' until about 1500 BC. The issue may have been that iron wasn't really better than Bronze for the most important (especially military) purposes. For example iron is too malleable (soft) to make good swords, compared to Bronze. And in some places, for example China, they had gotten very good indeed at making blades out of bronze. For example the
enigmatic 2500 year old 'Sword of Goujian'
which is like something out of Crouching Tiger, has an extremely complex structure made of numerous alloys, and is somewhat miraculous technology.
So it wasn't until the bloomery forge techniques got a lot better and the ingredients for Bronze, namely Tin, started getting rare in the Middle East requiring them to get it from as far away as England. Then barbarian rivals to the Bronze Age civilizations started making a lot of iron spearheads and arrowheads and all the Bronze Age civilization centers start getting burned. That's called the "
Bronze Age Collapse
". Conan times. They also say the Trojan War was part of this general trend.
With any luck something like this will happen to "Western" civilization thanks to 3D printers or something. Otherwise we are all doomed.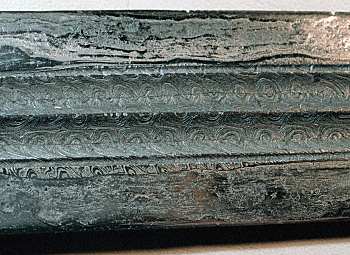 Then after that you get finally get 'steely iron', pattern welded steel, and steel, much better than iron though it uses the same (very common) raw materials, which seems to have been invented in Europe around 800 - 1000 BC though it's not PC to say so. Mostly in certain centers in Spain and what is now Croatia. The really good crucible steel started being made in Sri Lanka and the Punjab region, (between Pakistan and India, in the area where the Sikhs are from) and started getting widely exported in billets. This is what they call 'Damascus' steel, Toledo steel etc. Steel also shows up pretty early in some sites in Africa (I guess that is PC).
Alchemy in India is based on ferrous (iron) metalurgy. The 'riddle of steel' like from Conan, if you will. They got very good at it. There is
a 1600 year old pillar in Delhi, India
, that has sat in the rain for centuries without a spot of rust, they still don't know why.
and then old
Ulberht of course started making swords
out of imported Crucible steel in northern Germany. Near Sollingen where they make knives to this day. Those started being exported all over the world in the 9th-11th Centuries AD. That is sort of like the mythological steel in Game of Thrones, i forget what they call it. They looked at it with electron miscroscopes and it actually has carbon nano-tubes and nano-wires in it. Those swords are harder (and therefore hold a sharper edge much longer) and simultaneously more flexible, you can bend them 90 degrees and they come back to true.
http://io9.gizmodo.com/carbon-nanotubes-were-an-ancient-superweapon-1707615687
You can click here to see what these would look like before being rusted in the dirt for 1000 years:
http://www.templ.net/pics-weapons/148-sword/148-corpus-v.jpg
http://www.templ.net/pics-weapons/132-roman_sword/132-corpus-v.jpg
http://www.templ.net/pics-weapons/149-sword/149_all-v.jpg